Design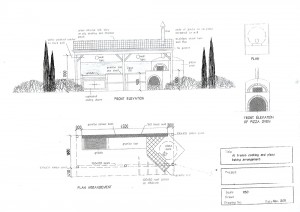 The designs for outdoor ovens are endless! You may have been inspired by an oven you have seen on the internet or while away on holiday. Whatever your specification, we are happy to create your bespoke garden oven in the style you wish.
You may want something grand that has an area for preparation, or possibly something much smaller and simpler.
Build
Combining traditional refractory materials and modern technology, our Oven Chambers are built and imported from Italy directly to ensure the highest quality and authenticity for our clients.
Rustic Oven Chambers from Italy
We offer two options for the central oven chamber – the core of every high quality traditional pizza oven. Our rustic oven chambers, built in Italy and specially imported, provide a modern take on a traditional design.
Our Artisan Range – A Beautiful Chamber Design Built for you.
Our new Artisan range is constructed around a modular mould, allowing for a much greater variety of chamber designs. Using high quality fire-bricks built into a chamber and contrasting brick for the floor, the finished product is certain to suit the space available in your garden and your own personal taste.
An Experienced Team to handle your build
Our design and construction team are proud to have over 40 years of experience in design, build and property maintenance. When your concept is ready to be brought to life, our professional team will provide a fast and efficient service to ensure your oven is ready to go as quickly as possible, without any fuss or concern.

We install the Chamber on a concrete base section (on a bed of heatproof lime and perlite mortar), usually set at waist level. The chamber is secured using wire bonds and traditional fire clay.

The installed oven is insulated with "Rockwool", in order to ensure the oven chamber keeps hot for as long as possible. A fully insulated oven will continue to stay hot all night (perfect for balmy summer dinner events!)

The design of the oven is very much up to the customer. In the past we have created surrounds from brick, stone or render; with tiled, stone or even granite work surfaces. La Rustica Pizza Ovens are proud to offer a personal service and can advise what may be the most suitable materials and/or design for your garden.


When the construction is nearly complete, La Rustica will begin the 'curing' process to get your oven ready to use – this normally takes 2-3 days. In total, most ovens will be complete within 7-10 days; we'd be happy to discuss a cost and time estimate with you.
Completion!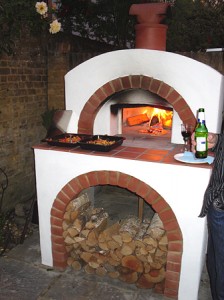 In a matter of days, your Pizza oven will be complete and you will be ready to go. lnvite your friends and family to pizza parties and get them to create their favourite pizzas for themselves!
To complete your Oven Experience, we also provide a complimentary lesson on using your oven to make the perfect pizza and a free pizza peel to get you started. In no time, you'll be making pizzas, breads, casseroles and more.
The ovens are a fantastic centerpiece for Pizza and Mediterranean-themed parties, but the oven can also be used to cook almost anything. Try it with casseroles, stews, slow roast Porchetta or lamb, and to bake your own bread. The alternatives are endless, all in your own garden – and all great fun! (Need inspiration? Check out our pizza oven recipes.)