A garden that looks as nice as the oven.
As well as our stunning pizza ovens, La Rustica provide landscaping services to add a splash of Italian style to your garden.
For instance, why not enhance your La Rustica pizza oven with a beautiful patio laid with terracotta tile or warm sandstone, with an arbour, pillar or pergola draped with a grape vine and constructed over a designated outdoor dining area with maybe a real wood barbecue or even a rustic cocktail bar. Water features are also popular in an Italian garden giving soothing background noise, symmetry and order.
A Mediterranean feel, back home.
You may consider a new brick or stone path leading through a decorative arch. The path could be lined by umbrella pines, citrus and olive trees. Palms and cypress trees, oleander and jasmine give a real feel of the Mediterranean, then add the evocative perfume of an Italian garden by filling terracotta pots and urns with rosemary, sage and lavenders.
Finally to achieve simpatico in your new Italian garden, decorate with potted flowers and statues.
What La Rustica can do for your garden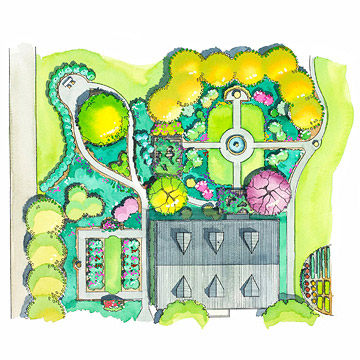 We are happy to work with you on your design and supply all materials and planting. We can also supply a vast array of Terracotta pots and urns. Our professional landscaping team work in the Surrey area and beyond, including Greater London, Essex, Sussex and most of South-east England.
We can offer a full design service to plan out your dream garden layout before we start. From the initial design, we can develop your design to incorporate whatever Italian touches or preferences you see fit – the right trees, plants, water features, buildings – and of course, our pizza ovens!
During and after our work we also offer advice on planting, the right trees and soil, and other aspects of maintenance. For advice or to get started on your garden project, get in touch with us today.